I'm different from the average Jazz artist." Rick DellaRatta says. "I haven't given up on reaching the people with my music."

We are talking early in 1977 and Rick has just returned from a smashing success, a 2-month standing-room only gig at the New York Bar in Tokyo, one of Japan's newest and hottest jazz clubs. Rick has quite a following in the Far East, having spent five months in 1996 drawing crowds and praise at the Quo Quo Club and the Mandarin Hotel in Hong Kong. On New York's amazingly crowded and competitive jazz scene, Rick is building up his credits. In August 1996 he played the prestigious Blue Note in Greenwich Village as a featured performer at the Panasonic Jazz Festival, and Backstage magazine early in 1997 awarded Rick a coveted Bistro award for "excellence and achievement" in the category of singer/instrumentalist.

"I think there is room for someone like myself," Rick says, "someone who is not as commercial as Kenny G or as difficult to connect with as some of those music professors playing these days." I agree wholeheartedly. I'll never forget the first time I heard Rick DellaRatta. He was singing Oscar Levant's Blame It On My Youth, and I was bowled over by Rick's emotional power, haunting voice and understated yet passionate piano accompaniment. The voice quality and feeling reminded me of a superior synthesis of rock's Neil Young and jazz' haunted legend, Chet Baker.

I have since learned that finding rarely heard gems like the piece by Levant (who was known more as a pop classical pianist and a Hollywood character actor) and writing creative originals are trademarks of Rick DellaRatta. Rick's aching rendition of Sammy Fain's A New Kind of Love on his first Stella recording, Take It or Leave It, still resonates in my memory. (This is the tune that the Marx brothers sang in the movie, "Monkey Business," and that Billy Strayhorn and Johnny Hodges revived on their late 1950's Cue For Saxophone album.) Rick's original, The Pain of Losing You, was another high point in that venture.

Now on this second Stella release, Thought Provoking, he has refined his art even more successfully with another satisfying mix of originals and standards¾ known and less-known¾ plus two concluding Brazilian tunes. DellaRatta has chosen his sidemen very sagely. Saxophonist Dave Liebman is renowned for his work with Miles Davis and is a world-renowned jazz educator; bassist Eddie Gomez is another exceptional teacher whose work with Bill Evans piano trio is legendary; and Lenny White lists among his many credits work with Chick Corea's Return to Forever band.

"I met Dave Liebman on a flight to Norway a few years ago ," Rick recalls. "Dave had recently heard about me from a gig I did in Stroudsburg [the eastern Pennsylvania college town where Liebman lives]. When we started talking in depth during a layover in London, we really hit it off and I knew I wanted him for my next album." Eddie Gomez learned of DellaRatta's work from Tom McKinely, one of Rick's professors in the mid 1980s at the New England Conservatory of Music, and Eddie then recommended Lenny White to Rick.

All members of the band have great moments in Thought Provoking. Gomez' woody opening bass lines and Liebman's lyrical solos on the compelling DellaRatta original, Falling Away, and White's seductive brushwork on Burton Lane's ballad, Everything I Have is Yours, are just some of my favorites, but I am most impressed by the quartet's communicating the feeling of a band. The curse of much jazz these days is the sense that there are four soloists fighting for the spotlight instead of four artists trying to make music. There is no place for such hogging in DellaRatta's vision, and the band strongly supports his singing as well as his piano solos.

"I don't think most jazz vocalists really get a chance to play jazz," DellaRatta says. "They just sing the tune, the band comps, and there's usually no improvisation at all." Not so on Thought Provoking! There is a sense of empathy and adventure on all the vocals, from Rick's opening original, Living Inside a Daydream, and the Yip Harburg/Arlen gem from the "Wizard of Oz." If I Only Had a Brain, to Alec Wilder's rarely heard Moon and Sand.

DellaRatta comes from a musical family in Schenectady, New York. Rick's mother plays organ in the local Catholic Church, and his grandfather, Peter, was a renowned accordion player, who, as the story goes, smuggled his box onto the boat to the New World from Italy. "They say whenever Al Capone came to out area he had Grandpa picked up by a Bentley and driven to a gig," Rick recalls with a chuckle. "When I was growing up, I was always at my grandparents' house and I treasure the things I learned there about music and life."

DellaRatta in Italian means "to the swift." It is no exaggeration to say that Rick DellaRatta is living up to his name, swiftly rising to the top ranks of vocalists and pianists on the contemporary jazz scene.

Lee Lowenfish is a free-lance writer and jazz educator who edits and publishes Lee Lo's New York Jazz Newsletter.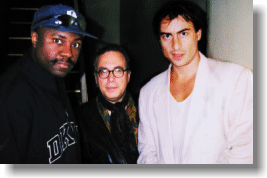 1.
Living Inside a Day Dream
R. DellaRatta

2.
Thought Provoking
R. DellaRatta

3.
Altered Impressions
R. DellaRatta

4.
If I Only Had a Brain
Harold Arlen/E.Y. Harburg

5.
Falling Away
R. DellaRatta

6.
Everything I Have is Yours
Harold Adamson/Burton Lane

7.
Very Early
Bill Evans

8.
Moon and Sand
Alec Wilder, William Engrick, Mortimer Politz

9.
Hong Kong Blues
R. DellaRatta

10.
Preciso aprender a ser só
Marcos Valle/Paulo Sérgio Valle

11.
Ará
João Donato/Caetano Velose