The Rick DellaRatta Trio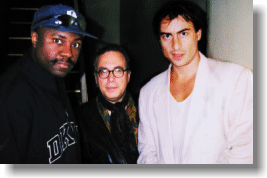 Lenny White, Eddie Gomez &
Rick DellaRatta
RECORDINGS
Rick's latest CD "Jazz at Christmastime" features unique jazz arrangements of Christmas music and is set to be released in December 2001 on the Stella Record Label. Other cd's of Ricks include an intimate solo album entitled, "Alone Together," and a double cd that was recorded live in concert both in Fortaleza, Brazil and The Blue Note Jazz Club in NYC entitled "Live in Brazil & The Blue Note". DellaRatta switches gears to the classical genre with his symphonic composition "Permutata" which was recorded by the London Symphony Orchestra on the MMC label under the direction of Roger Briggs.
"Thought Provoking," his CD released in June 1997 on Stella Records, features Eddie Gomez on bass, Dave Liebman on saxophone, and Lenny White on drums. Jazz Times noted that "DellaRatta displays his burgeoning talents ...featuring his youthful sounding vocals, energized keyboard skills and prowess as a composer." "Thought Provoking" follows "Take It or Leave It," DellaRatta's debut CD. With "his swinging piano style" and "sultry vocals," he "brings new life" to jazz standards and captivates with his own unique, avant-garde compositions. According to Cadence Magazine, Rick's debut CD makes "music that orbits between cool and boppish... with vocals that really capture a listener's attention." Also released in 1998 is a music video of the haunting single "Living Inside a Daydream," from the "Thought Provoking" CD.
"Jazz for Peace", his CD released in April 2004 includes selections from the very first Jazz for Peace Concert on 10/4/2001 which featured Rick along with Jazz Greats - Bassist Eddie Gomez, Drummer Lenny White & Cuban Saxophonist/ Clarinetist Paquito D'Rivera. ◊ Live selections from Rick DellaRatta's Recent Sold Out weekend at Birdland in NYC! ◊ Rick's Symphonic Composition "Permutata" recorded by The London Symphony Orchestra at the famed Abbey Road Studios in London, England. ◊ Studio recording of Rick's signature composition "Jazz for Peace".
PERFORMANCES
Rick DellaRatta, 40-year-old New York based international jazz pianist, vocalist and composer, has performed in legendary jazz clubs such as Sweet Basil, Ronnie Scotts, The Blue Note, Birdland and The Five Spot. Rick is currently sharing his musical message worldwide through his "Jazz for Peace World Tour". The tour is scheduled to include The United States, The Middle East, The United Kingdom, Asia, Europe and South Africa. The "Jazz for Peace" tour will be Rick's first ever "World Tour" however recent performances by Rick outside the U.S. have included Japan, Hong Kong, Bulgaria, Bolivia, Brazil, Canada, Iceland, Norway, Sweden, Finland, Switzerland, Germany, Italy, Luxembourg and Croatia.
Recent Festival appearances as a leader include headlining at The Savannah Jazz Festival, The Kansas City Jazz and Blues Festival, Ottawa International Jazz Festival, The Empire State Jazz Festival, Coleman Hawkins Jazz Festival, The Lake George Jazz Festival, The Sofia Jazz Festival in Bulgaria and The Taketa Jazz Festival in Japan. Other festival appearances include The Loft Jazz Festival, New York's world famous Blue Note the Panasonic Jazz Festival, The DuMarier Jazz Festival in Toronto and Summer Fest in Milwaukee.
MUSICIANS
Rick DellaRatta has been touring with his trio Jazz Greats Eddie Gomez and Lenny White as well as leading successful performances with Jazz Legends Dave Leibman, Paquito D'Rivera, Rufus Reid, Billy Hart, Bobby Watson, Nick Brignola, Sonny Fortune, Elliot Zigmund, Idris Muhhamad and Al Foster.
AWARDS
DellaRatta has been honored with awards such as The 2000 MAC Award for Recording Of The Year for his double album live CD release titled "Live in Brazil & The Blue Note". Rick was also a 1998 and 1999 ASCAP Popular Award Winner as well as the 1997 Back Stage Bistro Award Winner for outstanding singer/instrumentalist and was a Mac award nominee for outstanding jazz artist. The award winning Singer/Instrumentalist has also agreed to an exclusive endorsement deal with Earthworks Microphones. After receiving a Masters in music at the New England Conservatory, Rick toured with Herb Reed and The Platters throughout the Caribbean, Bahamas, Bermuda, Mexico and Jamaica. He also toured as pianist with the Artie Shaw Orchestra throughout the U.S. and Canada, and as opening act and MC for jazz legend Dizzy Gillespie. A native of upstate New York, Rick now resides in New York City. Rick DellaRatta's achievements as a world class musician as well as his musical message through Jazz to create peace and sharpen the minds of all mankind to it's highest potential were summed up recently when he was referred to as "Mr. Jazz" by former President George W. Bush and recently congratulated by current president Barack Obama for "everything he has accomplished to this point, and…challenging humanity to realize that the forces that unite us are far stronger than the forces that divide us."